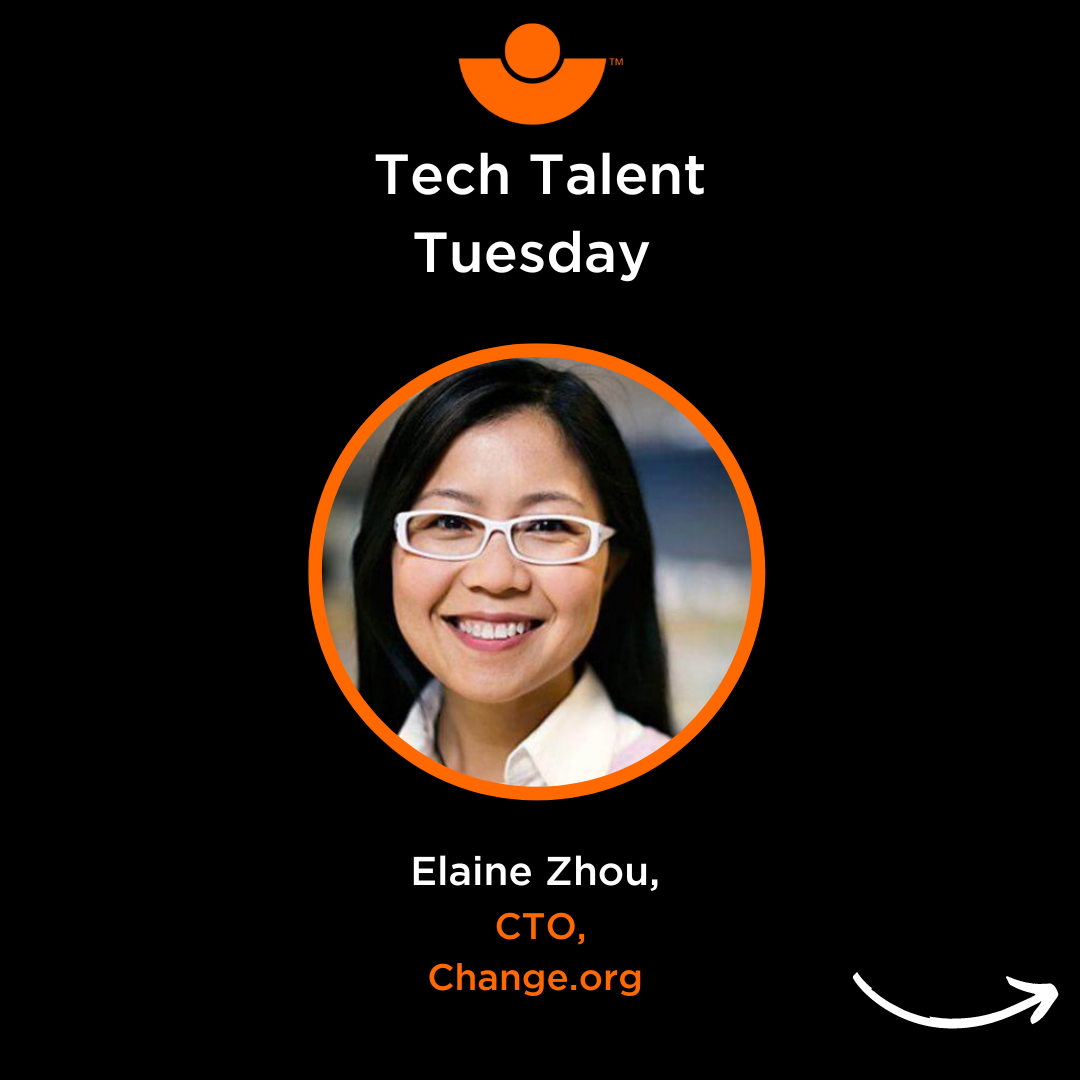 In a world where dreams evolve and life takes unexpected turns, Elaine Zhou's remarkable journey stands as a testament to resilience, adaptability, and unwavering determination. Born in Guangzhou, China, Elaine and her family embarked on a new chapter when they immigrated to the United States in 1992. This week's Tech Talent Tuesday delves into Elaine's transformative path, from her aspirations of becoming a doctor to her impactful leadership role as the Chief Technology Officer (CTO) at Change.org, spearheading responsible AI implementation and engineering excellence.

From an early age, Elaine had a passion for medicine. She pursued her dream by attending medical school in China. However, fate had a different plan in store for her. Shortly after arriving in the United States, Elaine faced the heart-wrenching loss of her father. At just 20 years old, she courageously shouldered the responsibility of being the breadwinner for her family. The need for financial stability compelled her to swiftly transition careers, embarking on the path of engineering while simultaneously immersing herself in learning English and adapting to her new environment.
Elaine's engineering career commenced at PeopleSoft, where she honed her skills and absorbed the importance of fostering a people-centric culture. She then ventured into building a Facebook-like social network tailored for the LGBTQ+ community, demonstrating her dedication to addressing the technological underserving of marginalized groups.

Elaine's leadership skills shone through as she assumed pivotal roles within notable organizations. As the Chief Technology Officer of Vidado.ai, an AI start-up acquired by SS&C, she harnessed AI's potential to extract crucial data from handwritten documents, revolutionizing companies' strategies and operations. Her subsequent position as Senior Vice President of Product Development at Clean Power Finance saw her oversee product engineering teams, driving innovation in the renewable energy sector.

Elaine's current role as the CTO of Change.org allows her to fuse her passion for engineering with a vision for positive change on a global scale. Change.org is the world's largest tech platform for people-powered initiatives. They provide a powerful voice for people to advocate for the causes they are deeply passionate about. Elaine is tasked with building a robust engineering team, and ensures that Change.org's 600 million users worldwide can access the platform seamlessly.
She also spearheads Responsible AI implementation, utilizing the power of equitable AI to foster authentic interactions and shared experiences that accelerate positive change. According to Elaine, Change.org's engineering team aspires to match the calibre of tech giants like Amazon, Microsoft, and Google. However, their unique mission to effect societal change sets them apart.

Elaine Zhou's journey as engineering leader at Change.org exemplifies the power of adaptability and purpose-driven endeavours. Her unwavering commitment to technological innovation, responsible AI implementation, and creating a global platform for positive change inspires us all.
You can stay up to date with Elaine and Change.org here.
Make sure you are following MCS to see our weekly Tech Talent blog alongside numerous job opportunities across several sectors!