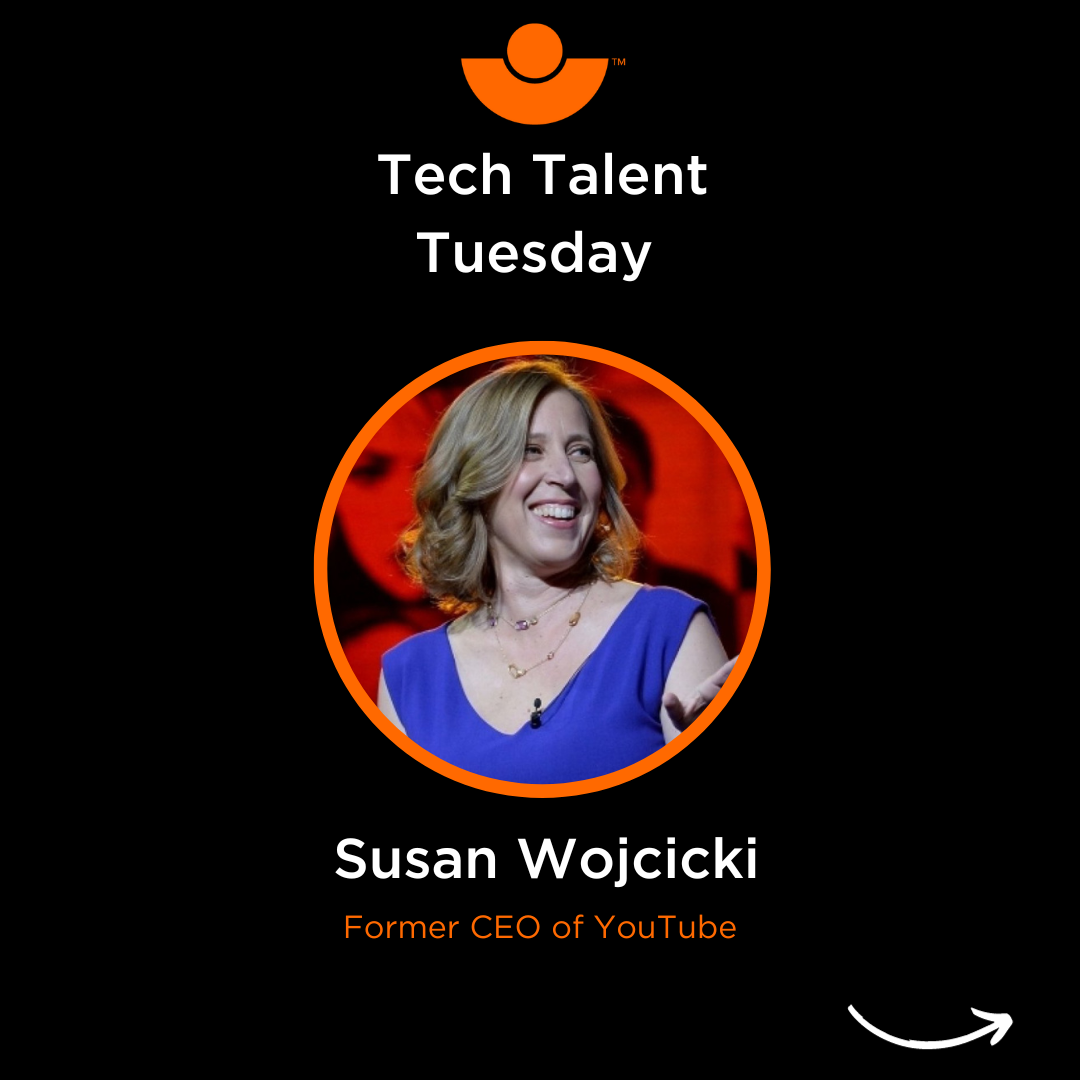 This week's Tech Talent Tuesday, we turn the spotlight on Susan Wojcicki. From her early days as marketing manager at Google to her transformative leadership as CEO of YouTube, she has shaped the digital landscape in ways that will resonate for generations to come.
Susan's Academic and Tech Beginnings
Born on July 5, 1968, in Santa Clara County, California, Susan's upbringing was deeply rooted in academia and science. Her father, a distinguished physics professor, and her mother, an accomplished journalist, practically raised her on the Stanford campus, providing an early immersion in the academic world.
While it might have seemed natural for Susan to attend Harvard University, her academic pursuits initially led her towards history and literature, rather than technology. It wasn't until taking a computer science class in her senior year that her passion for technology was ignited. Following her graduation from Harvard, she furthered her education with an M.S. in economics and an M.B.A., setting the stage for her subsequent business career. This journey began at Intel Corporation in the marketing department, followed by roles as a management consultant at both Bain & Company and R.B. Webber & Company.
Tech Visionary: Susan's Journey from Google to YouTube
In 1998, she unwittingly became a part of tech history when she rented her garage to Google founders Larry Page and Sergey Brin to use as the company's first headquarters. Little did she know that this modest beginning would mark the inception of a transformative journey for Susan and Google itself.
Susan began working at Google in 1999, becoming the company's first marketing manager. Under Susan's guidance, Google became a powerhouse in online advertising with Susan playing a pivotal role in several key initiatives. She co-developed Google Image Search and was the first product manager of AdSense, an advertising product introduced in 2003 that would go on to revolutionize online advertising. She was also heavily involved in creating Google Analytics, AdWords, and DoubleClick. Susan's efforts were recognized with the prestigious Google Founders' Award.
In 2006, Susan's foresight led to Google's acquisition of YouTube for $1.65 billion. This monumental deal not only reshaped the online video landscape but also showcased Susan's knack for identifying game-changing opportunities.
Susan became the CEO of YouTube in 2014, and she has since transformed the platform. Monthly viewers have soared to 2.5 billion, with users watching a staggering billion hours of content daily. YouTube's monetization strategies have thrived, paying out over $30 billion to artists, creators, and media companies by 2021. Simultaneously, Susan has fortified the platform against hate speech and violence, instituting stringent policies for user safety and platform integrity.
Susan has received numerous awards and accolades for her transformative work. Among other awards, she ranked #6 on Forbes' list of the World's 100 Most Powerful Women in 2017 and Time has described her as "the most powerful woman on the Internet".
Empowering Women: Susan Wojcicki's Advocacy Beyond Tech
Beyond her corporate endeavors, Susan is a passionate advocate for numerous causes. She has countered gender discrimination in tech companies, worked to increase girls' interest in computer science, served as a board member for a global literacy charity, and lent aid to Syrian refugees. However, the expansion of paid family leave is the cause closest to her heart.
A mother of five, Susan was the first Google employee to go on maternity leave. Under her influence, Google extended paid maternity leave from 12 to 18 weeks in 2007. This policy shift led to a 50% reduction in the rate at which mothers left Google, showcasing the tangible impact of family-friendly policies. Susan believes that a robust home life is critical to workplace success. As Susan says: it "avoid[s] costly turnover, and retain[s] the valued expertise, skills and perspective of…employees who are mothers".
Make sure you are following MCS to see our weekly Tech Talent blog alongside numerous job opportunities across several sectors!